It's about time that we give you a sneak preview of this year's program for ADE Green, the pioneering conference on sustainability, innovation and social change in the music industry. Because we've selected some truly pioneering and thought-provoking themes for ADE Green's 7th edition, and we hope that you will join us in the DeLaMar Theater on Friday October 18th. We may be sustainability advocates at ADE Green, but we're actually pretty stoked about this!
Innofest: Six innovations that will change the industry
More and more event organizers talk about sustainability, about smarter and about cleaner. But who are the real innovators and, more importantly: what are their solutions? Innofest provides entrepreneurs with the opportunity to test their innovation at festivals. Because if they manage to make a positive impact during an event, they have a pretty decent chance of succeeding in society at large as well. In this year's ADE Green program, Innofest invites six promising innovations to pitch on stage. They're all ready-to-go innovations, with a test record to prove it.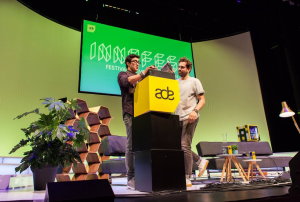 ADE Green wildcard for the best event innovation of 2019 
Ever dreamed of stepping on the big stage to present your start-up? We've reserved one wildcard entry for the creator(s) of the most ground-breaking event innovation of 2019 worldwide. Apply with your idea or invention here before Monday, September 23st. If that wildcard is yours, you'll get to pitch in front of a large audience of event organizers and industry professionals, alongside the five other concepts that are designed to make a positive impact on the event industry, and society in general. Also, travel and accommodation is covered by Innofest to support and enable you to become part of our network. 
Frequent flyers: how to reduce airmiles in a globalized industry
We can make responsible choices all we like to reduce our environmental impact by using reusable bottles and becoming vegetarian. But there is one often ignored problem: our appetite for flying around the world. Perhaps because it's the most difficult one to solve? Offsetting your carbon impact eases the pain, and innovations will come up in the future but what can we change NOW?
Circular Festivals
The circular economy provides a sustainable answer to society's greatest challenge of the 21st century. Festivals can serve as a microcosm for circular economic innovation and experimentation. In a short amount of time they must provide all basic needs, among others, sanitation, food, shelter and waste disposal. Starting on a festival scale, one can bring about the insights needed to further research, experiment, and improve the most promising circular interventions. In this section we'll discuss the biggest challenges to move towards a circular festival.
Plastic Promise: The Next Steps Towards Responsible Plastic Use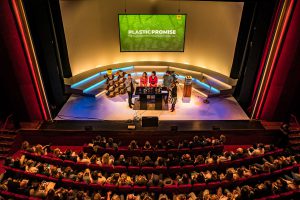 Exactly 1 year ago the Plastic Promise was launched at ADE Green. Major players in the event industry pledged to cut their use of disposable plastics in half within 3 years.  Over the past 12 months, these players have made their first steps, pioneering several projects. This session will provide facts & figures on plastic use in the industry, share learnings from last year and discuss next steps towards more responsible plastic use.
The Sound of Nature
ADE Green is all about rediscovering how humans can come together and celebrate in a way that is more in harmony with Mother Earth. But in order to play in harmony with nature, we first need to listen. Whether you tune in to the universe's smallest particle or its largest galaxy, you'll discover that the whole world communicates through sound, or better yet: vibration. And some artists will say it's very grounding to turn these sounds into music. It helps us to become aware and present. In this panel, we invite DJs, Music Producers and VJs to talk about how they use nature in all its forms and transformations, as the main source of inspiration for their musical and visual creations.
The Art of Campaigning
Over the last decade, we've seen more and more people taking to the streets or speaking out over a cause. Especially among youth, activism is making a comeback, with Greta Thunberg and Extinction Rebellion as notable examples. In this panel, we will explore the different ways we can campaign trough music and events, taking into account the role of the media. How does one form a movement of scale and create a positive impact? What makes a good campaign and what strategies prove successful? How do we empower audiences, and ultimately our governments, to take action?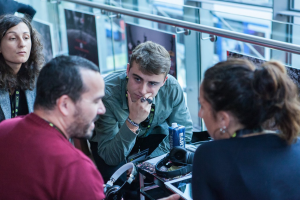 More TBA, less tickets left
At the moment, we're working hard to complete the full line-up of speakers. We'll announce the full program in the beginning of September. If you're as excited as we are about this year's themes and you don't want to miss out, don't wait to get your tickets! Last year's edition of ADE Green was completely sold out. Secure your spot here.
Header photo: Heleen Blanken at Draaimolen Festival, picture by Rafael Dimiioniatis