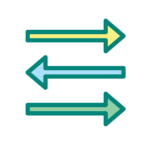 Organising and producing events requires significant transport capabilities. Materials need to be transported to the event, international artists, speakers, and athletes often arrive by plane (depending on the event), and visitors generally arrive en masse by fossil fuelled cars. That's why it is important for event organisers to carefully consider how they can limit their event's mobility emissions.
Find in our Url Index links to organisations and companies who can support you to improve on sustainable and social area's of impact.
Sorry, no posts matched your criteria.