Thursday May 7th | 8pm CET / 2pm EDT / 11am PDT Register here
Join us for a one hour Livecast directly from the Felix Meritis in Amsterdam with music-, event-, and festival professionals from around the globe. Hosted by music journalist Pay Kolmus, ADE Green will speak with  Eric Van Eerdenburg, Director of Lowlands Festival (NL), Steven Raspa, Arts Advocate & Associate Director Community Events Burning Man Project (US), Artur Mendes Co-Manager of Boom Festival (PT), Fruszina Szép, Festival Director of Lollapalooza (DE), Mirik Milan, nightlife advocate VibeLab, United We Stream (NL), DJ/Producer Eli Goldstein from Soul Clap (US), Carlijn Lindemulder, Partner in Green Events International (NL), and Milan Meyberg, Sustainability Strategist (NL). Attendees will fuel the conversations in real-time through polls and with questions. Furthermore, visions for a sustainable post-COVID-19 world will be shared by Chiara Badiali from Julie's Bicycle (UK), Skeena Rathor from Extinction Rebellion (UK), Chris Johnson from Vision 2025/ Shambala Festival (UK) and John D. Liu from Ecosystem Restoration Camps (US).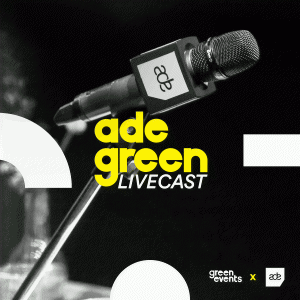 RETHINK
As more countries are banning large gatherings throughout the summer, it could very well mean that 2020 will go down in history as the year without festivals. During part one of the Livecast, Eric van Eerdenburg of Lowlands Festival, and Fruszina Szép of Lollapalooza will share their story and rethink the future of events and festivals in a post-COVID-19 world.
REBUILD
Amongst those hit hardest by the restrictive measures taken are the clubs, music venues, and of course all freelance talent and artists that depend on them for their livelihood. Seemingly overnight, a critical blow has struck the events industry leading to unemployment and bankruptcies. Going back to normal seems increasingly unlikely. How will this situation evolve in the coming months? And what is being done around the globe? In part two of the Livecast Mirik Milan responsible for the international roll-out of United We Stream will speak about how the club scene is coping with the current situation.
REGENERATE
No one knows what the future holds. However, the best way to predict the future is to invent it. Carlijn Lindemulder of Green Events International will discuss potential future scenarios for the events industry, with Artur Mendes from Boom Festival and DJ/Producer Eli Goldstein. The new ideas and visions of some of today's foremost thought-leaders on sustainability and social change will be shared by Chiara Badiali (Julie's Bicycle), Skeena Rathor (Extinction Rebellion) and Chris Johnson (Vision 2025/ Shambala Festival)
The ADE Green Livecast is organized and presented by Green Events International, the platform for environmental and social change within the event industry and supported by Amsterdam Dance Event, Nachtlab Agency, Eyeforce, Felix Meritis, ID&T, Nationaal Comité 4 & 5 Mei, De Vereniging Van EvenementenMakers, Julie's Bicycle, Green Music Initiative, A Greener Festival, Innofest, Plastic Promise, Vision 2025.